When & Where
November 20 – December 23
Open to the public: Wednesday-  Sunday, from 5-9 PM
*Closed for private event on December 16th
Center Plaza, 100 N. Charles Street
What to Expect
In its inaugural year, Candy Lane is a larger-than-life candy-themed experience with installations, thousands of lights and seasonal entertainment. Guests will be awed by 24-foot-tall ice cream cones and candy forests while strolling the paths of Center Plaza and experiencing Downtown in a sweet, new way. Selfies and family photos – including furry, four-legged family members – are encouraged.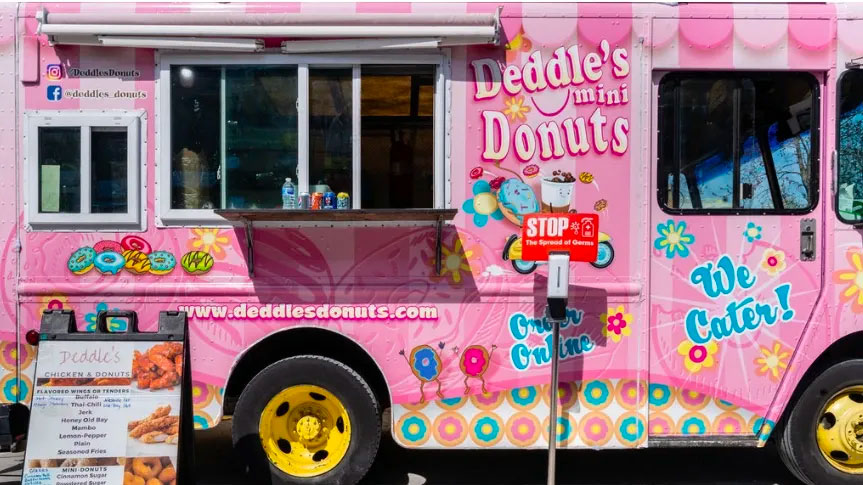 Attendees have the option to enjoy vendors such as: Deddle's Mini Donuts, Flash Crabcakes Co., Lattimore's Funnel Cakes, Boss Burger LLC, Delmarva Popcorn, Taco Loco. Vendors are subject to change.
---
Weekly Programming
Wednesdays: Wednesdays are a quiet day in Candy Lane. The lights and music are on from 5-9pm, but there is no additional programming or food vendors.
Thursdays: Visit Candy Lane for a "Sweet Sips" Happy Hour from 5-8pm. Downtown Partnership will be selling canned cocktails, beer, and wine along with nonalcoholic beverages. Plus, one food truck vendor each Thursday, and patio heaters will be on. Enjoy Fun O Kake on 12/9. Special appearance by a Holiday Elf.
Fridays: Sugar Coated Fridays will feature jams provided by DJ Mister Vershawn, sweet and savory bites provided by rotating local vendors like Taco Loco and Savory Crepes (12/10 and 12/17) or Flash CrabCake Co.(11/27). Bar will be open for drink sales from 5-8pm. Special appearances by a toy soldier and elf on stilts.
Saturdays: To make your Saturdays extra sweet, stop by Candy Lane from between the hours of 5-9pm and snap extra sweet photos for the gram. Bar sales are open from 5-8pm. Enjoy bites from local vendors from 5-8pm, rotating between  Lattimore's Funnel Cakes, Boss Burger (12/11 and 12/18), and Taco Loco and Savory Crepes. Enjoy a balloon twister and elves on stilts.
Sundays: Come camera-ready and take FREE photos with Santa on Candy Lane from 4-7pm. Enjoy special appearances from some sweet characters like Willy Wonka, Princess Lolly and more. Relish at the sweet juggling talents of "Ridiculous Nicholas" on select Sundays. Bar sales and cotton candy sales from 4-7pm as well. Enjoy a very special (Cool) Progeny's Playdate In-A-Box pick-up location Sunday, December 19th!
Ticket & Entry Info
Free, open to the public with additional onsite purchases and experiences.
Not So Silent Night
In addition, a Not So Silent Night soirée will take place at Candy Lane on December 16 from 7-11 PM. This 21+ holiday party is a ticketed event, which includes an open bar, sugary treats, and a dance party in the middle of Candy Lane. Themed outfits are encouraged. Tickets on sale now- Reserve yours today!